What is EUPATI?
The European Patients' Academy on Therapeutic Innovation (EUPATI) is a multi-stakeholder public-private partnership originally launched by the IMI-EUPATI project (2012-2017) and hosted by the European Patients' Forum (EPF)  from 2017 to 2020.  EUPATI is today established as an independent non-profit Foundation in the Netherlands. It is a successful programme that provides education and training to increase the capacity and capability of patients and patient representatives to understand and meaningfully contribute to medicines research and development (R&D), and to improve the availability of medical information for patients and other stakeholders.
It does so by conducting its established Patient Expert Training Programme which has trained more than 200 Patient Experts (EUPATI Fellows), and with 200 more currently enrolled via the EUPATI Open Classroom. In addition, EUPATI provides an open-access multilingual Toolbox that has served more than 5.5 million users in 13 languages around the world to date.
Subscribe to the EUPATI newsletter and social media channels for more information.
If you would like to collaborate with EUPATI, please visit this page.
EUPATI Celebrates its 10th Anniversary
EUPATI has been improving health outcomes since 2012.
Meet the Team
Maria Dutarte
Executive Director
Maria joined EUPATI in 2020 and is the Executive Director of the EUPATI Foundation. She oversees the EUPATI Secretariat and the different workstreams. She has previously worked as a Project Manager at the European AIDS Treatment Group (EATG) coordinating patient involvement in a number of training initiatives and scientific projects. Maria has also worked for different scientific and international organisations. Her educational background is in International Education and Communications.
Ingrid Heyne
Training Organisation and Alumni Coordinator
After 13 years in the Pharmaceutical Industry, Ingrid Heyne joined EUPATI in 2012 at the start of the EUPATI IMI Project phase. Currently, Ingrid is responsible for the organization and logistics of the EUPATI training portfolio, including the Patient Expert Programme and the Patient Engagement trainings. Ingrid also acts as the Alumni Coordinator.
Jana Popova
Patient Engagement Training Coordinator
Jana joined EUPATI in February 2021 as a Patient Engagement Training Coordinator. She is in charge of managing and implementing EUPATI's patient engagement trainings, especially EUPATI Fundamentals and EUPATI Essentials, and to adjust and develop the in-house trainings. She is also engaged in establishing collaborations with third parties to increase the scope of EUPATI's trainings for professionals, academia and industry. She is a PhD student in media and digital communications and has extensive experience in patient advocacy, digital health, training methods and communicational strategies.
Gemma Killeen
Business Development Coordinator
Gemma joined EUPATI in 2017 and her role involves supporting EUPATI's business development agenda (e.g. fundraising and proposal writing). Her expertise lies in strategy development and implementation, campaign management, and key leadership and stakeholder advocacy and engagement.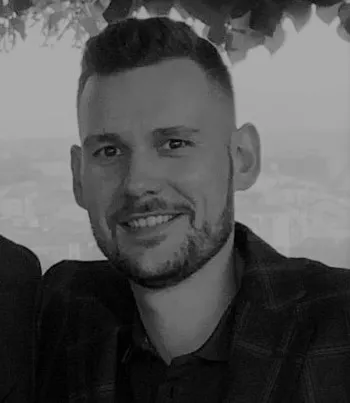 Bojan Cigan
Partnerships and Operations Coordinator
Bojan joined EUPATI in 2021 and coordinates EUPATI's partnerships and supports the governance & decision-making processes. He has a professional background in psychology and has previously worked for LEGEBITRA (Slovenia) as a counsellor and project coordinator within HIV prevention. From 2017 until 2020, he worked for the European AIDS Treatment Group (EATG) as Events Coordinator and Project Officer on e.g. PARADIGM and EFOEUPATI.
Amanda Lyons
Networks & Communications Coordinator
Amanda joined the EUPATI team in October 2020 and works as the Networks & Communications Coordinator bringing a wealth of experience in event and communications management, relationship management, engagement strategy and marketing. Amanda's role involves supporting the external and internal communications of EUPATI and coordinating the ENP Network helping to continue its growth, as part of the EUPATI programme. Amanda has previously worked in project management and communications in medical and scientific organisations.
Ieva Lukase
Open Classroom coordinator
Ieva joined EUPATI in June 2021 and coordinates the Open Classroom learning platform. Her professional background includes training design, facilitation and coordination, and learning & development projects at international education and non-profit organizations. Ieva has a Master's Degree in Education Science with the focus on inclusion and diversity.
Silvia Scalabrini
Project Coordinator
Silvia joined EUPATI in June 2021. She manages EUPATI's involvement in international projects, e.g. with EIT Health and IMI. Silvia is a sociologist by background and has been working in the field of patient and public involvement since 2006. She has worked for the Italian and English National Health Systems for a number of years; supporting patients/the community to have a say/co-produce health services with health professionals.
Francisca Pinheiro
Student Intern
Francisca joined EUPATI as an intern in February 2002. She is originally from Portugal and is currently fallowing the Management, Policy Analysis and Entrepreneurship Masters Programme in Health & Life Sciences (with specialisation in M&E) at Vrije Universiteit,  Amsterdam.  Francisca is mainly working on following up with the Alumni and other aspects related to the training portfolio.
Training
EUPATI offers face-to-face and online courses on medicines' research & development and patient engagement, and can also provide training tailored to your organisations' needs.
View our Training Portfolio
Toolbox
The Toolbox is an online library on the A-Z of medicines research and development and patient engagement. The information is not medicine-or disease-specific, but is applicable to the majority of diseases and/or medicines.
Launch the Toolbox