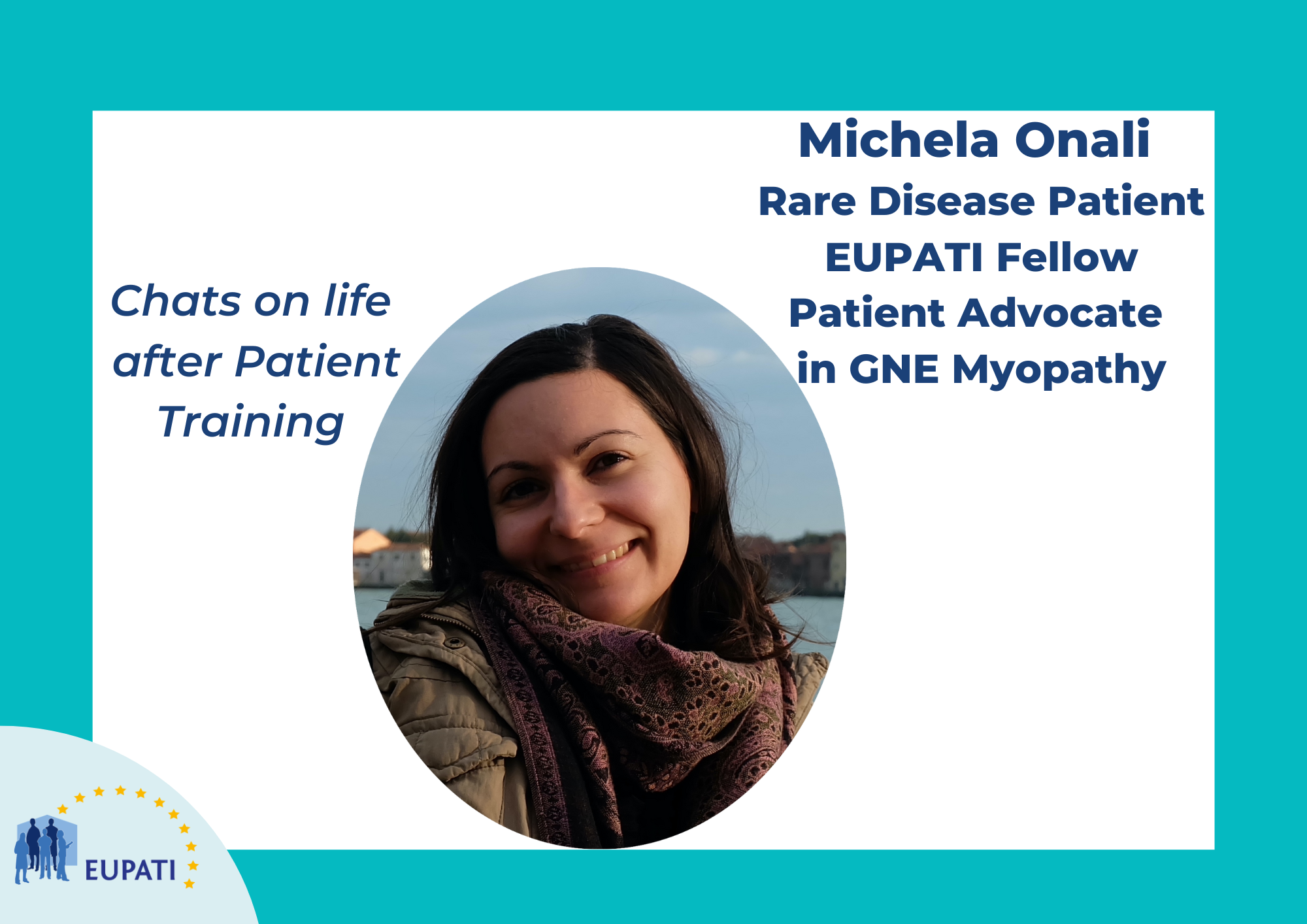 Chats on life after patient training
Michela Onali is a rare disease patient. She is a patient advocate in GNE Myopathy and recently won the EURODIS Volunteer award for her incredible work in research and drug development for rare diseases. Michela is also a EUPATI Fellow and graduated in 2021 as part of Cohort 4.
We got in touch with Michela recently to ask her to share her story and her journey as a patient expert.
Could you tell us a little bit about your story?
I am a rare disease patient who following a long-awaited diagnosis did not find much information beyond basic research publications. I have always had an open attitude for the new and found stimulating to pave new roads also the moment I received the diagnosis of an ultra-rare genetic disease called GNE Myopathy. GNE Myopathy is so rare that back then Google and social media were not really an option and Orphanet and scientific papers were my first source of information. As unexpectedly as this came, I quite soon felt the need to understand how to navigate the complexities of medicines development in order to take an active and meaningful action for a disease with very little research and attention, while extending efforts to all rare diseases where the proactive and committed role of patient advocates combined with education can often represent the only opportunity to take steps forward and very importantly to take the right direction for such "forgotten" and unknown diseases.
How did you decide to start doing patient advocacy work?
It is after participating in a Natural History Study that I started reflecting on the real meaning of opportunity and feeling a growing sense of responsibility to work toward meaningful advocacy for GNE Myopathy and rare diseases which have a long way to reach the clinical stage of medicines development.
On that occasion as a research participant I gained more knowledge about GNE Myopathy and what was known until then, but what stayed with me was hearing and reading about the challenges and gaps in research, diagnosis, and outreach for such rare diseases. At that moment I had two options:  I could hold on to hope and to what possibly this disease would mean to me or rather make responsible advocacy the road to take. My personal experience became the starting point to learn and voice different perspectives, challenges, and stories beyond my individual one.
How did you hear about the EUPATI Patient Expert Training Programme and how are you currently contributing to other training opportunities?
I heard about it from other patient advocates who participated the years before.  At that time, I wanted to make the most of these training opportunities to shape my direction in advocacy and make my action impactful. It all started in 2018. The very first training programme I attended was the EURORDIS Summer School on Medicines and Research Development, soon after in 2019 I completed the EURODIS Winter School on Scientific Innovation and Translational Research and the same year I joined the 4th Cohort of the EUPATI Patient Expert Training course. Currently, I am a member of the EURORDIS Open Academy Faculty, and I give presentations to researchers on the role of patients in research and the importance of patient partnerships in early research.  I continue learning each day from the interaction with researchers and the experience shared by other patient groups.
How has this training helped/impacted your day-to-day life?
Education posed eye-opening questions to me that encouraged and positively influenced my rooting from active to pro-active advocacy and from bringing theory into practice.
The year I applied for the EUPATI Expert Training Programme I felt the learnings gained until then were already paving the way for transforming ideas based on a lived experience with a rare disease into something tangible and to be discussed at the table with researchers.
It was through education that I grew the idea of approaching early career researchers in medicinal chemistry to initiate a consortium of patients and researchers and build a project proposal to work on a new delivery approach and compound for GNE Myopathy which was funded under the European Joint Programme on Rare Diseases (EJP RD)  Joint transnational call on Pre-clinical Research to Develop Effective Therapies for Rare Diseases.
Patients can play critical roles in medicines development and very importantly can de-risk steps leading to the clinic and beyond. I further think our role in early decision-making and basic research needs to be more talked about and stressed in training programmes as well.  The EUPATI Patient Expert Training Programme came at the perfect timing while I was working on the proposal co-writing. Learning about the lead identification stage and the optimization process of small molecules in the planning of medicines development was quite useful for me. It came as something particularly interesting and one of the modules I enjoyed the most because it was something new to me which made perfect sense in the dialogue with researchers at that time and still today in the second year of the project.
You won the EURODIS Volunteer award at the Black Pearl Awards recently – what does this award mean to you?
The Black Pearl Award could not be more precious to me, especially if I look at the path and diverse responsibilities that came with my advocacy journey while often navigating the unknown waters of ultra-rare diseases. It is precious because it comes from a community I joined throughout a journey toward new learnings, self-discovery, and overcoming 'the concept of limit' in many ways and contexts.
The extreme rarity of such diseases leads patients to advocate at all levels not only for their disease but for a reality which concerns many unknown and ever-mentioned diseases. Feeling trusted and valued, especially at the root of this is special and motivates me to continue proving and showing that it is the lived experience of patients that brings them to build innovative ideas and concrete opportunities in the most challenging and complex contexts, including research.
What is your biggest inspiration to keep doing volunteer work in patient advocacy?
Working in advocacy I experienced commitment along with the expertise that comes from a lived experience with a disease, continuous education and collaborative efforts pose no limits to finding ways for guiding research where patients are central and key in leading efforts and decision-making.
I think an innate attitude and outlook toward others is at the base of every patient's choice to commit to advocacy. Like many other patient advocates, my journey started with no scientific background, but with a lot of drive and the biggest expertise that comes from discovering more about a rare disease by living it every day. I think not everyone has to travel the same roads but can totally learn from those who have been there. My wish is to keep working in advocacy to learn from other patients and contribute to creating learning opportunities that give the tools to build confidence and the right knowledge to empower advocates to voice and create solutions targeting the unmet needs of their patient community.
What is your key message to the EUPATI Fellows and other patient advocates?
Advocacy is a responsibility, and as such it needs to be nurtured with continuous training and self-education because of the impact that our actions and communication can have for our community.
The biggest added value of these training opportunities is the interaction with other participants which helps develop creative and innovative thinking, build close collaborations, and apply knowledge toward patient-led initiative and action. Education becomes powerful when it circulates and is applied, and when learnings and lessons are shared. I encourage EUPATI Fellows to stay in touch with the other participants, share learnings with their community and reach stages of advocacy where a personal drive along with education empowers them to take pro-active action to create concrete opportunities for their disease.
What projects are you currently working on/involved in?
Since 2021 I have been responsible for coordination, communication, and management of project milestones of ProDGNE, a pre-clinical research project funded under the European Joint Programme on Rare Diseases (EJP RD) which brings together patients and researchers from Europe and Canada to advance research in GNE Myopathy.
I am involved in different working groups and advisory boards at EURORDIS, RDs GO FAIR, EATRIS and ERN Euro-NMD and in the past year I have joined the coordination team of the European Reference Network for Hereditary Metabolic disorders of (MetabERN) as Stakeholder Manager.