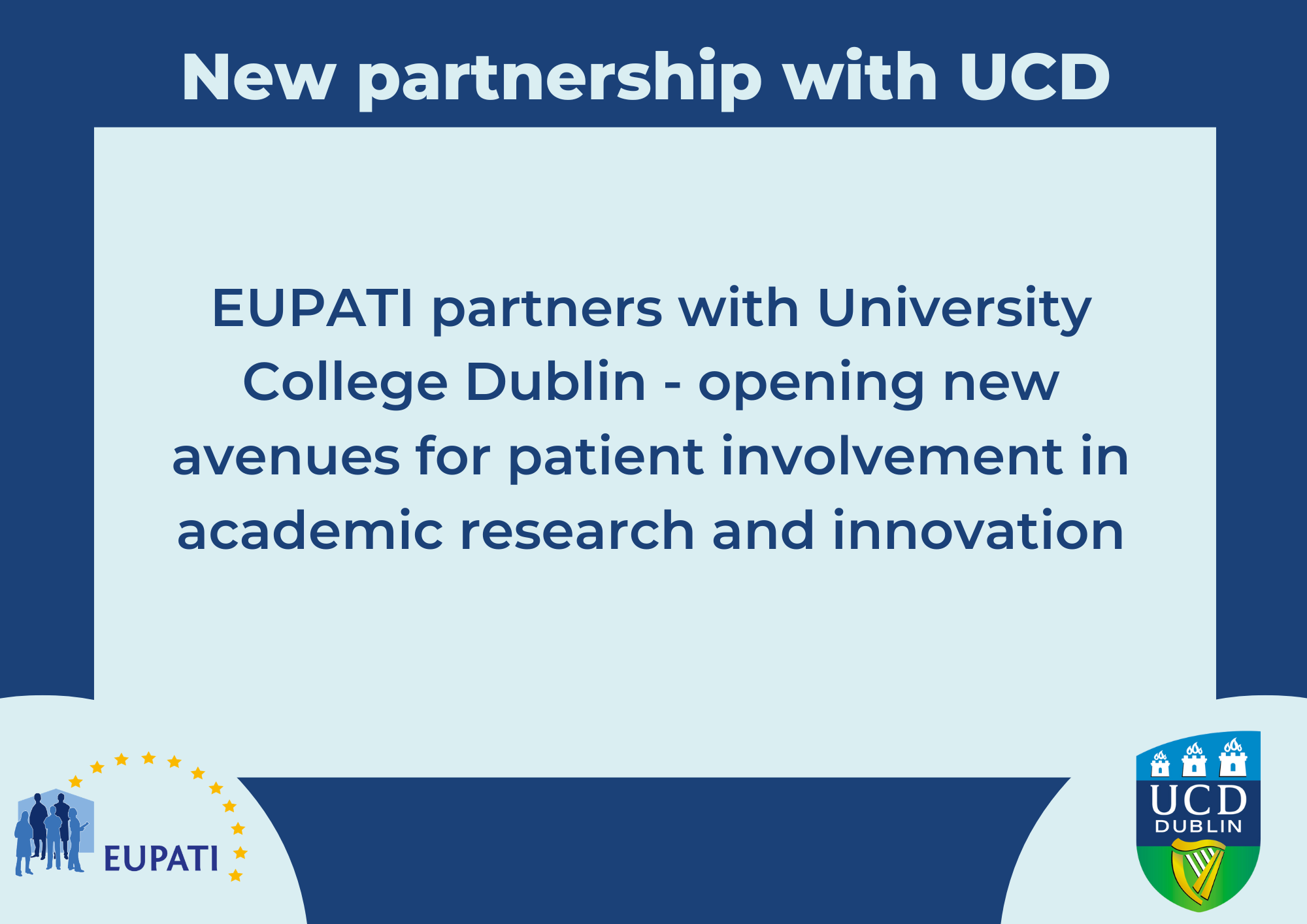 EUPATI partners with University College Dublin –  opening new avenues for patient involvement in academic research and innovation
The European Patients' Academy of Therapeutic Innovation (EUPATI) has signed a partnership with the University College Dublin (UCD).
This marks the beginning of an exciting collaboration focused on enhancing patient involvement in academic research and researchers' understanding on how to meaningfully involve patients in their work. EUPATI and UCD have agreed to work together to exchange knowledge, share resources and expertise as well as supporting the development of patient education training in medicines R&D.
The partnership agreement has been supported by the PPI Ignite Network @UCD, based at UCD Research, which works to embed Public and Patient Involvement (PPI) in health and social care related research. Engaged research is a strategic priority for UCD, to support the involvement of people from all backgrounds in research and education.
Equally, EUPATI supports patients and patient representatives through its open and accessible education platform, the EUPATI Open Classroom, and its EUPATI Toolbox. EUPATI's vision is to, through education, improve health outcomes through the contribution of patients and patient representatives as valued stakeholders.  
"We are delighted to embark on this collaboration with University College Dublin as we believe that academic research and innovation are the key driving forces to improved health outcomes for all. Patients have an important role to play in the development of new medicines and treatments and together we can advance further awareness of this as well as the required skills and capabilities for meaningful involvement for both patients and researchers." – Executive Director of EUPATI, Maria Dutarte
 "This partnership agreement will help us to enhance collaboration between researchers and people with lived experiences, and to improve access to knowledge on medicines' research and development for interested patients and other stakeholders. We look forward to working with EUPATI to build on the important PPI work taking place at UCD and across Europe." – UCD President, Professor Orla Feely
This partnership allows EUPATI to access UCD's expertise in clinical, non-clinical, preclinical and early development phases of medicines research, as well as the university's resources for public involvement in research and innovative learning.
In turn UCD researchers will be able to utilise EUPATI's expert connections in key areas including medical devices, clinical research and have increased access to a wide multistakeholder network in medicines research and development.
UCD has a long-standing relationship with IPPOSI, the Irish Platform for Patient Organisations, Science and Industry, who are also the EUPATI National Platform in Ireland.